Gastroenterology Webinar
Pediatric High-Resolution Anorectal Manometry (HRAM) Cases
Saturday - October 9, 2021
10:00 - 11:00 EDT (US & Canada)

16:00 - 17:00 CEST (Europe)
Presented by Dr. Khalil El-Chammas, Associate Professor of Pediatrics, Cincinnati Children's Hospital Medical Center, Ohio, USA.
By joining this webinar, you will become more familiar with clinical complaints associated with disturbance of recto-anal function​ in pediatrics.
You will learn about the interpretation of pediatric HRAM studies and results, using the London Classification​, and identify when to perform allied investigations of recto-anal function​.
Who should attend?
Surgeons, Gastroenterologists, Physiologists, Nurse Specialists, Physician assistants and other Health Care Professionals.

Note
This webinar is only available to be viewed live.
Register here
Meet the presenter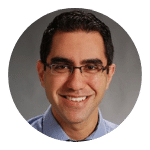 KHALIL EL-CHAMMAS, MD, MS
Cincinnati Children's Hospital Medical Center, Cincinnati, OH, USA
Khalil El-Chammas, MD, MS, is an Associate Professor of Pediatrics at the University of Cincinnati and the Associate Director of the Neurogastroenterology and Motility (NGM) Center at Cincinnati Children's Hospital Medical Center. Khalil has over 10 years' experience, both clinical and academic, related to the assessment and management of functional and motility disorders of the GI tract in children. Over 1000 patients undergo diagnostic investigations within the NGM Center each year, which provides the resources for allied research.