GASTRO WEBINAR
High Resolution Anorectal Manometry
(HRAM)
15:00 - 16:30 CEST (09:00 - 10:30 EDT)
What you will learn
Objectives:
After the completion of this training module, participants shall be able to:
Understand the clinical indications for High Resolution Anorectal Manometry (HRAM)
Know the equipment and techniques of a HRAM study
Identify protocols to be followed in performing HRAM studies
Interpret HRAM study results using the London Classification
Webinar Highlights
The highlights of this training module include:
Common indications for performing HRAM studies
Application of HRAM in clinical practice
Description of recommended clinical protocol
Analyses and interpretation
Who should attend?
Surgeons, Gastroenterologists, Physiologists, Nurse Specialists, Physician assistants and other Health Care Professionals.
About the speaker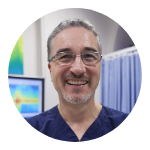 DR MARK SCOTT
Queen Mary University
London, UK
Dr Mark Scott, PhD, is Director and one of the founders of the internationally-renowned GI Physiology Unit (Colorectal service) at Barts and The London School of Medicine and Dentistry / Barts Health NHS Trust. Approximately 1000 patients undergo diagnostic investigations within the Unit each year, which provides the resources for allied research. He is also a Principal Investigator within the Blizard Institute at Queen Mary University of London, and has supervised numerous postgraduate students (both clinical and scientific) to successful completion of their higher degrees.

Mark has over 30 years' experience, both clinical and academic, related to the physiological assessment of functional colorectal disorders (primarily constipation and faecal incontinence). Research interests are focussed on pathophysiology and treatment, including: (1) pioneering work on visceral hyposensitivity; (2) assessment of colonic motor function; (3) development of novel investigative technologies; and (4) evaluation of novel therapies for both constipation and incontinence.

Mark is the most widely published colorectal GI Physiologist in the UK, having authored more than 165 original articles and 12 book chapters. He has been Guest Editor of 2 journal supplements devoted to the subject of chronic constipation, and was recently one of the European Society of Neurogastroenterology and Motility Working Team members setting guidelines for the management of constipation. Mark is also one of the Leads of the International Anorectal Physiology Working Group into standardisation of diagnostic testing.